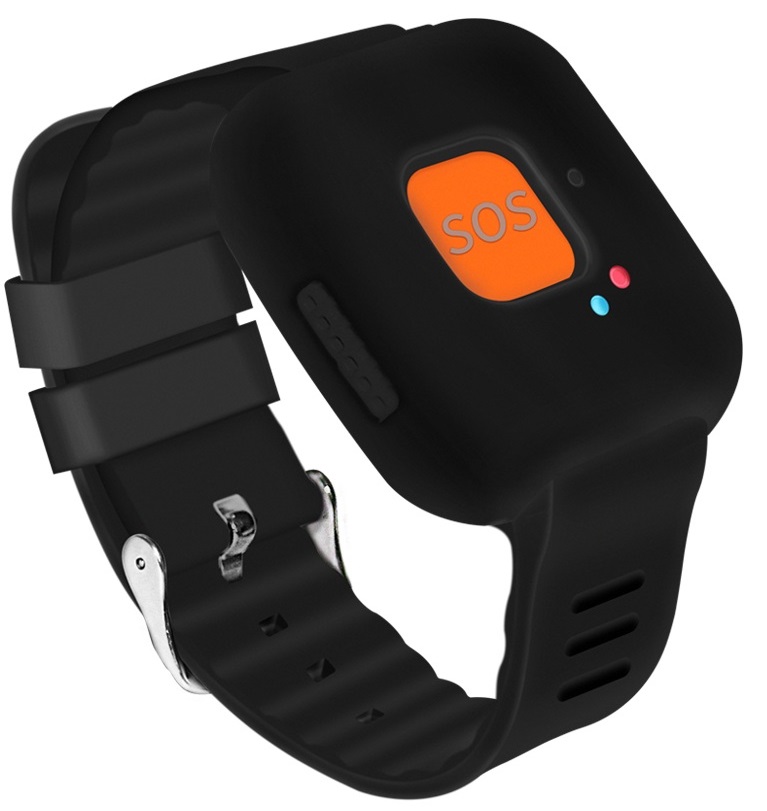 The BodyGuard bracelet will be appreciated by seniors living alone, parents of children running unattended, athletes on adventure expeditions or training in one.
Before sending the BodyGuard bracelet, we will contact you and possibly help set the bracelet forward, so that it comes ready for immediate use.
1st Bracelet works as a phone when you press the SOS button (for 3 seconds) calls you set SOS contacts.Gradually, in the order you specify, if unsuccessful the previous SOS contact. People connect by phone and can talk to each other.
2. Send the SMS to the SOS emergency contacts in case of unsuccessful calls. The last known GPS position of the bracelet wearer is also sent in the emergency SMS.
3. Via the BodyGUARD application, it is possible to monitor the orientation position of the bracelet bearer on a smartphone, tablet or computer (for technical specifics of position monitoring, see the section "About locating the device" below).
Dimensions (4cm x 4cm x 1.3 cm) with the possibility of placement on the wrist or neck or in the pocket. As a bracelet, it is suitable for wrists up to 21 cm.
---
The bracelet is connected to the BodyGuard application created by us. So we do not supply the bracelet with a Chinese application like everyone else on the market.
All data is stored on secure servers in the Czech Republic. Location tracking is never used for marketing purposes as with the search services of search engine providers.
---
The bracelet contains our SIM card, which is necessary for SOS calling and positioning functions. Minutes for calls from the bracelet are limited.
Call from the bracelet only in case of emergency!
You can call any way towards the bracelet.
---
PRICE OF A SERVICE:
After 3 months of a free activation of the bracelet, you will be asked to pay monthly fees of 10€.
Payment includes, in particular, maintenance of the BodyGuard application, payment of map materials to a third party and services related to the use of the SIM card.
Easy termination - you won't pay for another period, that's all.
---
BRACELET ACTIVATION
After receiving the bracelet, you will create an account in the BodyGUARD application, connect the purchased bracelet and set the required functions.
If you wish to set a bracelet from us in advance, contact us after ordering the bracelet and we will be happy to fine-tune everything with you.
---
MORE INFORMATION
About device location:
1. In the outdoor environment using GPS - the most accurate, in the order of meters.
2. In enclosed spaces using the surrounding Wifi - with an error from units to hundreds of meters.
3. In closed areas without Wifi signal using transmitters of mobile operators - with an error from 200m to several km.
The use of GPS is the most accurate, however, if the device does not "see" the GPS positioning satellite, other positioning methods must be used, but they are less accurate. These less accurate methods (LBS) are used in situations where there is no direct visibility to a sufficiently large piece of sky. Typically, these are situations in the shade of large buildings, inside buildings and in other areas where there is no direct visibility on the GPS satellite. Less accurate methods are based on detecting nearby Wi-Fi access points or transmitters of the infrastructure of mobile operators in the vicinity and their known location.
If you wear a bracelet on your hand and move with it, you will likely catch the exact position even in buildings, at least via the Wifi network, if no GPS signal is available.
If the bracelet wearer's position looks suspicious for a long time, call him and verify that everything is in order. Signal capture has technical limitations, so the position must be taken with some reserve in some cases.
---
A detailed description of the device:
Small dimensions (4cm x 4cm x 1.3 cm) with the possibility of placement on the wrist or neck or in a pocket.

SOS button for calling for help (triggering an alarm) to three specific numbers (maximum three predefined contacts) and sending emergency SMS in case of unsuccessful connection.

The last known GPS position of the bracelet wearer is also sent in the emergency SMS

Possibility of a telephone call from the device to one designated contact.

Share your location with specific people or groups of people - like via WhatsApp and other apps.

Monitoring the battery status of the device (in the application and sending an SMS when the battery is critical).

High battery life with a suitably selected position transmission interval.

Easy control of applications on a mobile phone or personal computer/tablet.
---
We plan in the BodyGuard application:
Location history
Geo zones
... and more …
SIM karta:
Lze použít SIM kartu jakéhokoli operátora.

Průměrná spotřeba dat zařízení je cca 50-100 MB za měsíc.
Ujistěte se, že SIM karta je plně kompatibilní se sítí 4G.
Na SIM kartě mějte volné minuty k volání dle své potřeby.
Doporučujeme i určitou zásobu sms pro případné upozorňovací sms (vybitá baterie, pozice SOS volání apod.)
Upozornění: Pokud není aktivní žádný datový tarif nebo na vaší předplacené kartě není dostatek peněz, zařízení se při opakovaném pokusu o navázání příslušného připojení rychle vybijí. Lokalizační a komunikační služby nejsou k dispozici.
BodyGuard hlídá vaše nejbližší
Podívejte se pro představu na jeden z našich náramků v akci, základní funkce jsou shodné.
---
Jak propojit BodyGuard zařízení s Bee Sure aplikací a přehled hlavních funkcí
Jak propojit BodyGuard zařízení s Bee Sure aplikací a přehled hlavních funkcí.